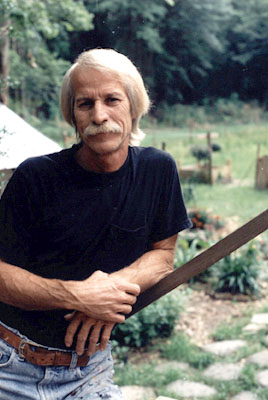 Woodie Long was a house painter for twenty-five years before he began experiencing health problems due to his occupation. He was depressed by his doctor's orders to stop painting in 1987. Born in Plant City, Florida on October 19, l942, he was the son of a migrant farmer who settled in one place for a while to be a sharecropper. Being one of twelve children, Woodie was expected to work in the fields rather than to attend school so that work for him began at three years of age, carrying water to the seedlings in the fields. His family moved constantly "to where the work was" for the first fourteen years of Woodie's life. Then, after moving to a city housing project in Tampa, Florida, his father soon abandoned the large family. Woodie never attended public school.
In the years that followed, Woodie became independent by becoming a house painter. He moved from place to place, often similar to the early days of his life, married twice and had two children before marrying Dot, his wife of many years. Although he would often paint his animated scenes on walls, painting over them before they were discovered, he painted his first work on paper one day when he was "itching to paint a house." He had a desire to share the story of his life with his children. The only way that he could do this was by pouring out his memories by using his wife's art brushes and paint from a community art class she had attended. When his paintings were seen while drying that day, he received instant encouragement from his wife.
His bright happy creations of his memories began to be sought out and purchased by people far and wide. Now his works are in many major private and corporate collections throughout the U.S. and abroad and have been shown in New York exhibitions since l992. Examples of his art are included in the permanent collections of the Cooperstown Museum, Philadelphia Museum of Art , Wiregrass Museum and the Columbus Museum of Art to name but a few. His paintings have been published in numerous books, as CD covers ("The Song Catcher") and accompanying articles in major magazines and newspapers such as Smithsonian, The Washington Post and The New York Times.
Woodie Long died October 12, 2009 a few days before his 67th birthday. He still had the quaint house down a dirt road in Alabama and a beautiful garden where he and his wife grew much of their own food. He would happily tell you, "I was born to paint–I always loved painting. Painting makes me feel content and complete. Through my paintings I can leave a lot of memories for my kids."