Marcia Weber Art Objects Art Gallery
This gallery, founded in 1991, buys and sells rare and unusual one-of-a-kind works of art created by self-taught artists. A special focus for the gallery is the art of contemporary folk and of outsider artists whose works and creative methods are often shaped by available found materials and isolated lifestyles, which place them outside the mainstream of American Fine Art or academically trained art.
The informal gallery in downtown Wetumpka, Alabama (7 miles from Montgomery) is open anytime, by appointment, and is filled more than 1000 works by many artists from various areas of the United States. Exhibitions have been presented by the gallery in New York, Chicago and Atlanta.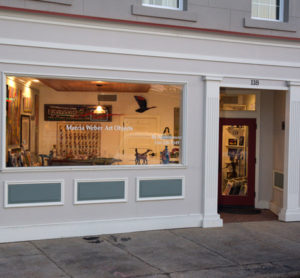 Marcia Weber has enjoyed a close personal relationship with many artists in this field while actively collecting their art for over thirty years.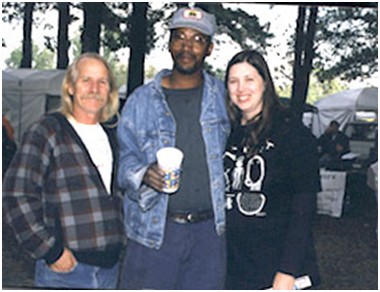 The Mission of the gallery remains the same today as it was when the gallery was founded in 1991:
Marcia Weber Art Objects is dedicated to trying to locate, to promote, to document and to preserve the art of  self-taught artists, especially genuine contemporary folk artists and genuine outsider artists.
The gallery supports photo documentation and primary field research to establish facts concerning the lives, works and environments of these artists. A special emphasis has been placed on artists who are still alive, but the genuine contemporary folk artist is nearly extinct.
Gallery research is shared with any interested party. Source documents are donated to libraries to aid and to insure the possibility of future research in this field.  The history of this field deserves to be true and correct in the future.  Marcia Weber is committed to helping this process.
When the general public gains greater opportunities to view this art, a greater awareness and appreciation develops. Marcia Weber Art Objects is committed to educating others and to fostering a better understanding of this art.
Bringing self-taught, contemporary folk and outsider art to public attention in the marketplace has helped to find good homes for thousands of objects and preserved many objects that might have otherwise been lost. Too often, works by these artists are thrown away or bull dozed under, especially the  large environmental sculptures which are often the greatest work created by an artist.  The gallery has strived to help many living artists to achieve greater financial security.  In the 27th year of business, the gallery inventory recorded the 100,000th item to be cared for and sold by Marcia Weber Art Objects!
Marcia Weber sees the needs. She continues to envision and to hope for the founding of a non-profit foundation some day, to share her mission and to preserve a collection of outstanding works by self-taught artists as well as the documentation surrounding these artists. She welcomes any discussion or comments, as well as questions, about individual works of art from her gallery.
Below: Jimmie Lee Sudduth with his Toto, 1992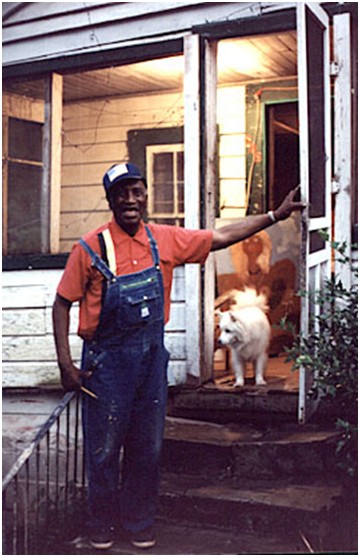 Marcia Weber Art Objects, Inc. is a Better Business Bureau Accredited Business.