What is Self Taught & Contemporary Folk Art
What is this art and why is it important?
What is this art that is called by various names — Contemporary Folk, Outsider Art, or Self-Taught art?  
Why is it meaningful & relevant to us and to the art world today?
The terminology surrounding this art is anything but clear-cut. In fact there remains confusion and much discussion in this field about its proper name. This confusion brings to mind the parable of the "Ten Blind Men of Indostan." You probably know this one already. Ten blind men were  each asked to each describe an elephant…one man was grasping the trunk and described that while another was holding the elephant's tail and was describing that. As a result there was argument between the ten blind men in their attempt to define and describe this same animal.  All were correct to some degree, in describing what they were experiencing but none of the men could experience the whole elephant. The range of this art is so huge that it is difficult to have one term to accurately describe it all.  So I'll be the first to let you know there may still be a lot more of this "elephant" than I or any one person may know how to accurately describe.  I'd love to share my opinion about the field and what I've grasped during more than 40 years of collecting it, the last twenty-five through my gallery, Marcia Weber Art Objects.
It is very important for you to approach this art with the understanding that this art is not related to academically trained art. It is not an attempt to imitate academically trained art but instead is a totally different genre.
Just as jazz and blues music was never an attempt to imitate classical or academically-trained music. So just imagine this art as a visual counterpart to Jazz and blues music.
So to perceive this art completely and accurately, you must take off your fine art glasses, open your mind, and try not to approach this art in the same way as you might have thought of art in any historically-trained sense. Only then will you understand the rare expression and viewpoint of these self-taught artists.
This art IS generally created by individuals who, when first discovered, did not consider themselves to be "artists." Often it is art created by individuals who might not know how to spell "art."  It may be made by individuals who have been brought up in homes where they were not exposed to academically-trained or so-called "fine art." These individuals began what they make, not to "create art," but instead to fulfill a burning desire.  They wanted to express something that was very important to them or might have even felt much like a thorn or a splinter they needed to just get out.
It is generally understood that artists in this field have had little or no academic training in art and create from a natural source from within. Their outpouring is like water from a flowing well– pure and without input, filtering or additives.
For some of these artists, their motivation to start making something was to record and to honor their memories–experiences from their life that they wanted to save for the future– for their families. These particular artists are often referred to as "memory" artists.  Most of the "memory artists" I refer to as contemporary folk artists. These are frequently the unacknowledged documenters of the way life is lived, whether yesterday or today. These artists exemplify the importance of everyday life from their many points of view.
Another group of artists under the self-taught umbrella is referred to as "Visionaries." They have experienced visions or vivid dreams that they are compelled and driven to express. These visions are most often of a religious nature. Yet another group of artists who are most often referred to as the "Outsider" artists are those who experience life outside the mainstream due to some degree of a mental illness, psychological or physical handicaps, geographic isolation or even imprisonment. Some artists may have combinations of these isolating factors, with a life of such rich fabric that several terms apply to them!
There is much continual debate and discussion in this field concerning what to call the art. The term "self-taught art" is broad, non-specific and is an umbrella term that really includes all of it and best of all, it seems to ruffle the least feathers in the field.  Whatever you want to call it, this art genre at its very core is about the unity and the beauty of the diversity of human existence.
It is a credit to media, museums, schools and especially to art educators today, that only a small segment of our current population can honestly fit this "self-taught" label. It is rarer still that these particular individuals are motivated to create something. One fascinating thing is that this art exemplifies the basic urge of the human spirit to create and to innovate, often without any suggestion or encouragement– so often just like a natural flowing well, with water overflowing and spilling out freely.
These expressions are as unique and varied as the personalities behind the art. What these individuals are expressing often from their unique viewpoint is truly extraordinary! It is much more likely for such a person's sensitivity to have been worked and wrung right out of them and yet in these rare instances, it blooms into expressions that are often riveting and spellbinding and most of all, totally unique.
This art shines with examples of creativity and a need from within all humans to express it. What better example of this exists than in recycling trash to have the necessary materials to make something of beautiful wonder to please oneself?   So many of these artists began creating art after a great tragedy, an injury or an illness affecting their life. Sometimes the artists did not begin creating until very late in life when they finally had time for their life's memories and experiences to well up inside and just pour out somehow. This pouring was often a natural healing and cleansing no doubt. For some artists, it was a way to hang on to their sanity and was created totally without intent but as an impulse. This art arises from unheard voices which at times in the past, were dismissed as unimportant expressions, sadly misunderstood, and cast away. Thus the antique examples of this art today are exceedingly rare.
Also growing more extinct are the large environmental creations that some self-taught artists fill their yards with, encircling their homes. These "environments" are often the greatest single work of arts created by an individual self-taught artists and rarely survive them by much time. The Kohler Foundation (of Wisconsin) has graciously saved and preserved numerous "environments" that are the examples left of these works of art in America.
The rarity of genuine examples of self-taught art has increased its collectible nature. Various market pressures have also taken a toll in different ways on this art, at times, compromising its very nature and unfortunately continuing its path toward extinction. Input, suggestions to artists, art commissioned by collectors, all meant to help artists perhaps, instead are not best for these artists in particular. Being left to hear their own voice from within and then to create freely from their own impulses is what is clearly needed for the most genuine examples of this art to flow from the artists. This allows and honors the self-taught to remain truly self-taught and to be free to express and to honor their own creativity.  Being asked to
please someone else's desire for a work of art that is "just so" robs an artist of their creative will. Rarely will a masterpiece of this genre be created in this way and meanwhile the artist's inner voice is not honored and begins to weaken, eventually going away.
So I strive to find the genuine examples of self-taught art and to collect them for my gallery, Marcia Weber Art Objects. I seek other collectors- you– to make selections, to purchase and to collect to be good, more permanent caregivers for this rare art.  Most of all to enjoy this art and your collecting journey, wherever it leads you.
Marcia Weber
About some of the artists…
(excerpts from a lecture)
Let's start with two of Alabama's most highly regarded patriarchs in this field, Bill Traylor and Mose Tolliver (known as "Mose T").  Bill Traylor was born a slave on a plantation near Benton, which is between Selma and Montgomery. Most of his works were created when he was a homeless, handicapped man, in his 80 's on the streets of Montgomery from l939 through l941. To quote one newspaper account written about him during his lifetime, "He drew his pictures on whatever the wind blew his way." Incidentally, his works have sold at Sotheby's recently for more than $170,000 each and is highly sought after.
Mose Tolliver. was born the son of a sharecropper. He lived in Montgomery and was a gardener who was an artist with flowering plants before he found time to paint. This happened after being injured and handicapped in a nearly fatal accident. Mose Tolliver's art and Bill Traylor's were included in a major landmark exhibition called "Black Folk Art in America" in l982 at the Corcoran Gallery in Washington which was the beginning of an upward trend of interest in this field. More recently both Bill Traylor and Mose Tolliver, along with other self-taught Alabama artists have works that have been accepted into the Smithsonian and into New York's Metropolitan Museum of Art and will be part of an upcoming exhibition in the American Wing.
Mose's daughter, Annie Tolliver, paints with her own style rich in color, encouraged and influenced by her father who died in 2006.  Her brothers, Charles Tolliver and Jimmy Tolliver also are artists along with a sister-in-law, Victorine.
Jimmie Lee Sudduth  from Alabama also spent much of his life as a gardener in Fayette. The son of a Choctaw Indian shaman, he began painting with mud and sweet mixture when he was a young boy, often coloring his earliest works with berries and grasses. He painted until he was nearly 96 and died at the age of 97 in 2007.
Bernice Sims expressed many memories from her long life in Brewton, Alabama. She did not begin painting until after rearing six children. She was very involved in the civil rights movement and often painted scenes depicting that struggle as well as the joys of daily life in her community as she remembers it. She suffered a stroke in l995 and worked hard to successfully rehabilitate and then narrowly escaped from a house fire but continued to paint.  She died in 2014.
Woodie Long was born into a migrant family of 13 children. His family traveled around to wherever there was field work to do. He never attended school because of his family's nomadic way of life and the fact that he was expected to work in the fields beginning at the age of three. He became a house painter and during a period of convalescence his daughter asked for some family history. He answered her in the only way he could, through painting about it. He traveled to New York several times to attend exhibits presented by my gallery, and eventually incorporated memories of New York into his colorful joyful work.  His extremely popular works are in numerous important collections today. Woodie Long died in 2009.
Lonnie Holley is a native of Birmingham, Alabama.  He uses cast away found objects in a unique way in much of his work. He also carves and paints when he has the material available. Recently he has become known as a musician too.  His work is included in Atlanta's High Museum as well as the Metropolitan Museum in New York.
Howard Finster, also born in Alabama, is one of the best-known artists of this genre.  His art graced the covers for albums by "The Talking Heads" and "REM."  He was a preacher who was converted into an artist by a visionary experience.  From that point on, his sermons were placed in each numbered work of art and began being hotly collected throughout the world. A portion of his "environment" is preserved at the High Museum in Atlanta.  His works are in countless museums including the Smithsonian.  He died in 2001.
Myrtice West who lived in Centre, Alabama created riveting visionary works that are Biblical interpretations.  She was known for painting a series of works depicting entire chapters of the Bible, often citing what verse is depicted in the work. Her earliest works were oil on found cloth material and oil on wood.  Eventually she painted with acrylic on canvas. She died in 2010.
Annie Lucas is another of Alabama's visionary artists who has painted "Revelations" among other Biblical depictions. In some of her art she has a unique way of combining her own intricate kind of free-form embroidery to emphasize and add detail to her amazing works. Her works are all Biblical narratives.
Charlie Lucas from Alabama is also known as the Tin Man.  After Charlie broke his back in the early 80's he began to create art.  He paints with acrylic on found wooden material and also is a sculptor using found metals, especially old car parts which he welds together. His art in in a number of museums including the High Museum in Atlanta.
Sarah Rakes honors nature in her colorful works which she also frames with her own painted frames. She is a native of the Arkansas hills and now lives in a remote area in the hills of north Georgia. That's how far her used car got her traveling when she was seventeen having quit school and left home trying to get to New York where she had heard you could be an artist. She had already painted compulsively on every surface and drawer bottom in her childhood home after having first seen art in a traveling museum that came to her underprivileged area of Arkansas.
Hope Atkinson was a artist who lived in a barn in northern Wisconsin without benefit of electricity or running water when she was discovered. She began creating her rare art from paper mache' after a debilitating accident. Eventually she painted on found objects, paper and canvas as well. Hope has spent many years as a recluse, plagued with mental illness and created powerful works of art forming play sets that told stories. She first entertained herself with her "toys" which made comment about current events or historical events with her wry sense of humor.  Hope died in 2012 in Alabama after spending the last seven years of her life in an artists' shelter.
Benjamin Franklin Perkins was a patriotic preacher who lived near Bankston, Alabama. His rare paintings were of acrylic on canvas and a few were on gourds and found objects. He painted the Ten Commandments on his studio door greeting everyone who entered. His greatest work of art was an amazing environment which expressed his religious and patriotic passions. He died in l993. Unfortunately,  his studio burned after his death and his rural environment is now in ruins.
This is just a very small sampling of the Outsider, Self-taught, and contemporary folk artists from Marcia Weber Art Objects.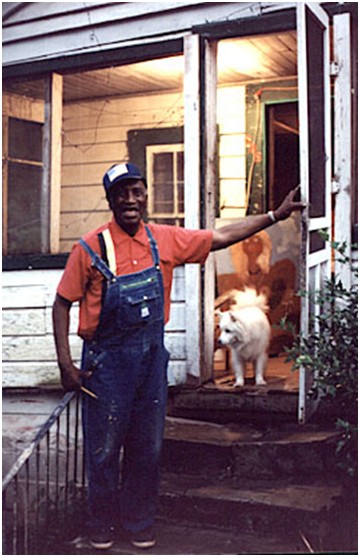 Jimmie Lee Sudduth and Toto in 1992
Jimmie Lee Sudduth 1910-2007 A lecture given at the Montgomery Museum of Fine Arts:
Jimmie Lee was well known for many years in Alabama–native of Fayette, Alabama – Caine's Ridge community in particular. He is considered one of the pioneers in black folk art in America. His paintings are distinctive; each original one of a kind work was created, at first only with various earth ochres, usually mud that he dug from the earth. He experimented and added various sweet liquids to act as a binder to make his "sweet mud" stick to a variety of surfaces. He most commonly used wood to paint on but he did use tin as well. He loved to experiment and added a variety of items for color through the years. Among these items were berries, poke salad leaves, soot and even axle grease! Over time he also added various paints and often mixed paint and rubbed these various items into his wet mud on the surface of his paintings as he worked.
It was a privilege to have known Jimmie Lee and to have a gallery for the last 18 years where I exhibited his work from California to Chicago to New York to enthusiastic responses. As a person, he was a pleasure to know and to visit. He had a love for life that was infectious. His joy and his genuine interest in his fellow man spilled over into his paintings, which are honest, powerful expressions of his appreciation for life. He painted thousands of paintings in his 97 years and he painted everyday until he was 95. I visited him on his 95th birthday and he had a lot of fun planting some plants and he even painted a painting while I was there that day.
He painted all sorts of subjects…often of memories from his life–farm scenes, animals, flowers (especially in the spring) or people, often inspired by a current event, a visitor or something he saw on TV. He painted self-portraits, always showing himself in a hat and overalls with his hands on his hips. Two of his favorite subjects were his dog, Toto, and a variety of buildings. Jimmie Lee truly loved architecture!
I most often visited Jimmie Lee at his home but once his cousin, O.C., drove him to Montgomery where he visited my Lexington Road home in Old Cloverdale. There are Victorian Gothic homes on a 3 block street with multi-gabled roofs. As soon as Jimmie Lee got out of the van, he began to exclaim about the houses on the street. He walked up and down the street taking Polaroid photos of the houses, saying, "I'm gonna' paint that house!" He obviously paid attention to many architectural details. I began to see paintings that resembled those houses on my street. He loved cities and painting cityscapes as well.
Jimmie Lee had numerous opportunities to travel to cities and these found their way into his paintings…New Orleans, New York and Washington in particular. In 1976 during the Bicentennial Festivities, he represented Alabama in the folk life arena where he demonstrated his painting and enthralled hundreds of people. It was there that he connected with NBC who later in 1980 featured him on the Today Show. Once the world knew about Jimmie Lee and his art, people from far and wide beat a path to his door to meet him and to take back home a ray of Alabama sunshine and beautiful paintings of Alabama mud.
I did numerous interviews with Jimmie Lee through the years and was charmed by his simple explanations and astounded by his astute memory. I am convinced that illiteracy must enhance memory! I would review notes from a former interview and ask the same questions again a year or so later and over time, the details he gave were consistent. When asked how and when he painted his first painting, he told me several times about how he was taken to the woods at the age of 3 to look for medicine plants with his Mother, who was a "medicine lady" for a small band of Choctaw Indians still in those parts 100 years ago. While there he had mixed honey with the surrounding dirt and painted a picture on the stump of a cut tree. He was scolded for wasting the honey but later when they came back to collect some more plants, his painting was still there on the tree stump. This, his mother saw as a "sign" that Jimmie Lee would be a great painter and from that time on, encouraged him to continue painting. He painted a number of homages to Indians….many Indian Girls and Indian Chiefs.
Jimmie Lee was the gardener for many fine homes in Fayette through the years. He also had worked at a gristmill and at Brown's Lumber Company in Fayette, often painting and giving his works away to co-workers and customers. It was after his retirement from his everyday jobs that he began to paint full time. Starting in 1969 Jimmie Lee was included in numerous exhibitions–some important ones, like Passionate Visions from the American South that traveled throughout the country for two years. His work was included in galleries from coast to coast and even in France, Switzerland and Germany.
His career was jumpstarted and assisted by a dear man, Jack Black, the local newspaper editor of his town. They had been backdoor neighbors for almost 30 years prior to 1984 when the house where Jimmie Lee and his wife, Ethel, had lived burned .   Many of his early works from his personal collection were destroyed in this fire. Jimmie Lee and his family then moved to a little white house that had a railroad track running right behind it. He found this entertaining and of course he painted trains! When I asked once about the title for a train painting, he replied, "That's the 7:14" as though he knew it very well. This house was fortunately right down the road from his cousin, O. C. Sudduth, who was 12 years younger than Jimmie Lee. It was here that Ethel had a stroke and was lovingly cared for by Jimmie Lee for several years before she died. Over time, O.C. cared for Jimmie Lee along with Dorothy, who lived next door to Jimmie Lee, as his health declined with diabetes, heart disease and many bouts with pneumonia. O. C. had a nice brick home built for Jimmie Lee that sat on the hill behind the white house which was then torn down. Jimmie Lee said of his new house, "It's a palace, Miss Marcia, it's a palace!" This new house Jimmie Lee promptly gave to Dorothy, his nurse, and she and O.C. took excellent care of Jimmie Lee. He died at 97 leaving behind an unparallel legacy in American Folk art.
Jimmie Lee was quite an entertainer. He loved music and performing for visitors and for cameras. He most often played the "mouth harp" as he would call it.- a harmonica. He had a great deal of fun creating dialogs with himself while playing his "mouth harp" that were as spontaneous as his paintings. I took this video of Jimmie Lee in October of 1992 at his little white house.
(Note we are in the process of having this video available from a link on the website homepage as soon as possible)
I've had a lot of people who asked me why I spell Jimmie Lee's name with an "ie."  Since Jimmie
Lee didn't know how to spell his name, one day, I asked to see his Social Security card and there on the
card, his name was spelled clearly: Jimmie Lee Sudduth, so I believe this is the official spelling for his name which is not an unusual way to spell it in the South.  In early newspaper documents, even Jimmie Lee's last name was spelled in different ways.