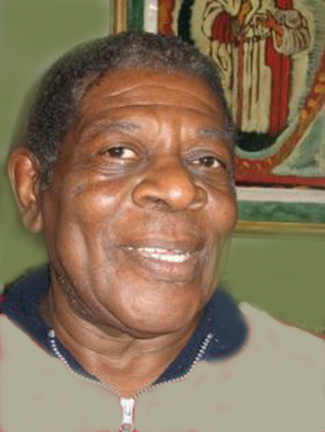 Rudolph Valentino Bostic was born August 16, 1944  and began drawing as a child. When toys were sparse, he created cowboy paper dolls with crayons and cardboard to play with his cousins. At 17 he was painting pictures based on Bible illustrations to be hung in church in his hometown of Savannah, Georgia. He was actually discouraged from making art, but he continued and then began to study the Old Masters' paintings.
While working for the Derst Baking Company, he was inspired to use their cardboard boxes and flour barrel tops as his canvasses. Classically inspired by the techniques he had learned looking at art books, he began to using them in his work. He loves to emphasize contrasting light and shadow with bright colors, twisting lines, and black borders, often creating his own frames from overlaying cardboard. He works with a wide variety of media, including house paint, magic marker, acrylics, and at times a bit of glitter—all on cast-away cardboard.
His subjects still include Bible stories and continue to be influenced by pop culture. But his subjects often vary from fantasy landscapes and mythology to mermaids and merry-go-rounds.
A representative of the Mary, Mother of Hope monastery in Grahamstown, South Africa said of his work, donated to them, that "the color and movement as well as the themes are very poignant to Africans. In a country trying to find its way after so many centuries of oppression and neglect," Bostic's paintings are "icons of peace, certainty in God's providence and hope."
His work is in the collections of both the Smithsonian Museum of American Art and the High Museum in Atlanta along with many important private collections throughout the world.