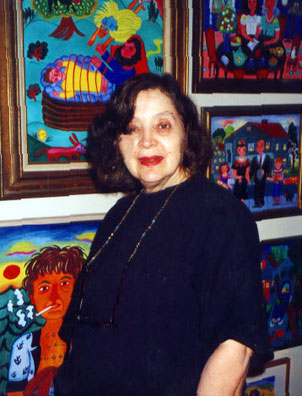 Malcah Zeldis was born Mildred Brightman on September 22, 1931, in the Bronx, New York. Shortly after her birth, her family moved to Detroit, where he father eked out a living as a window washer. She graduated from high school with strong Zionist leanings and in 1948 went to live on a kibbutz in Israel. She met and married Hiram Zeldis, a writer who was also from Detroit. The couple were married in Detroit and returned to Israel. She was encouraged to paint by Aaron Giladi, an Israeli artist who saw her artwork during a visit to the kibbutz.
In 1958 Zeldis left Israel with her family and settled in New York. For more than ten years, she was a mother and housewife. Neither her father nor her husband encouraged her to paint, and although she thought about painting during this time, she did not have enough confidence to pursue it. During the early 1970s, as her children grew older and her marriage floundered, she was admitted to Brooklyn College. She graduated in 1974, worked as a teacher's aide, obtained a divorce, and began to paint seriously.
Zeldis' interests are wide and the subjects of her paintings are varied. Her artworks encompass social themes, celebrations, everyday events, religious events and practices, fairy tales, and portraits of her heroes and heroines. She often rapidly sketches her design and then paints in oil on canvas or board or in gouache or tempera on paper. Her paintings have been widely collected and exhibited, and she has recently illustrated several children's books.
Malcah Zeldis, one of the leading self-taught contemporary artists, is best known for her paintings depicting urban life, historical and religious events, her heroes, and her own life. Her spirited narrative style expresses an optimistic life view and a strong social commitment, and her paintings have been widely exhibited. Her work is in the collection of the Smithsonian American Art Museum and was used for the invitation and posters for the traveling exhibition: American Art on the Move which toured museums during 2001. Of special note is the one-person show presented by the Museum of American Folk Art at New York University in 1988. It was the first time the museum had presented a one-person exhibition of the work of a living folk artist.
— Adapted from "Pictured in My Mind" by Alice Rae Yellen