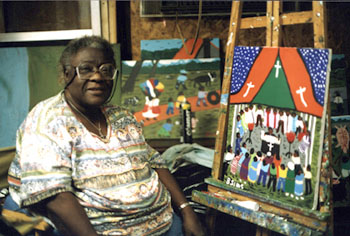 Bernice Sims grew up in Hickory Hill community near Brewton, Alabama. Several spinster sisters who operated a general store near her home were artists and she observed them painting when she was a young girl. These seeds of interest were planted then, but did not germinate until years later in the early 1980's when she first tried oil painting.
Bernice raised six children as a single parent after her husband deserted the family. She worked in a variety of offices including an insurance office. In the 1960's Bernice was active in encouraging voter registration, and was in Selma for the Civil Rights March. In the early 1980's after having knee replacement surgery and becoming disabled, she enrolled in a continuing education art class at a community college to pursue her interest in painting. "The interest in painting had always been there when the time was not."
Larry Manning, her instructor, recognized her natural talent and announced to her that she should "paint her own way." He explained the materials for painting and encouraged her to paint whatever she felt she should paint. "I paint the things that are real to me–that either happened to me or are in my memory from the old days. In my paintings are the important things to me. I want to save these memories for my family and for others."
Bernice's work achieved national recognition and one of her depictions of the "Selma Bridge March" was pictured on a US Postage stamp in the"To Form a More Perfect Union" stamp series. A number of one-person exhibitions in museums have honored Bernice Sims, who remained a steady inspiration to many through her own perseverance.
Bernice rehabilitated and learned to walk again after a first stroke but the second stroke left her bound to a wheel chair. She cheerfully explained her gratitude that she "still had the use of both arms and was able to paint and live alone in her new small brick house." Her older wooden house burned several years before and Bernice escaped with only her life, bed clothes and a few paintings that a neighbor retrieved before the entire home was engulfed. After the death of several of her children, Bernice moved to a nursing home in north Florida.  In October of 2014 Bernice released a book about her life called  The Struggle: My Life & Legacy and attended a book signing for it.  Three weeks later she died on October 23, 2014.  She lived to see her paintings accepted into the collection of Atlanta's High Museum and the Wiregrass Museum of Art in Dothan, Alabama.