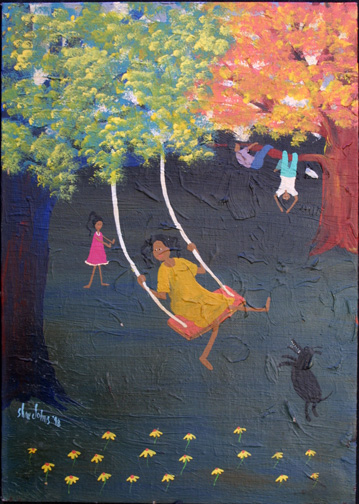 Your purchase of the art below will benefit Art Creation Foundation for Children  –  Learn more about this organization here and here. Art Creation Foundation For Children is a non-profit arts-based organization created for the personal growth, empowerment and education of children in need in Jacmel, Haiti.
FROM ACFFC:  "Our mission is to build a passionate community of future leaders, visionaries and dynamic thinkers who are empowered to better their lives and their world through the arts and education in Jacmel, Haiti."
"Our Vision is for our children to achieve self-sufficiency via the arts and education as well as to internalize a sense of social responsibility, community and connectedness in partnership with ACFFC staff and supporters."
Art Creation Foundation for Children (ACFFC) is a pacifist, non-religious, apolitical, non-governmental organization with no religious organization affiliations. Art is the focus that provides our youth a future. Our children have been selected based on specific criteria. All of the children when enrolled, had never attended school nor did they eat on a regular basis. Many of our children are orphaned and were destined to a life on the streets. The children who are blessed with family are still living a life of severe poverty that should not exist in a world as advanced as ours. Knowing that these children now have an opportunity for a better life, arts education, schooling, consistent supply of food, medical care and support is an overwhelming relief to these children. We are a simple, grassroots, non- bureaucratic organization with no hidden agenda … all we want is for our children to thrive and be healthy, happy children!  ACFFC was founded in 2000 and has been granted 501(c)3 status.   Join us in helping these youth be the bright future of Haiti through the arts.
Our Results: Over 100 children are served through our program … they are reading and writing … doing basic math … learning French and English … learning traditional Haitian arts and crafts. All on a "shoestring" budget. Young adults who had been written off as "street kids" have been the honored guests of diplomats and dignitaries, travelled abroad, and are now responsibly reshaping their community. The energy we put into these young people is returned tenfold in each case. ACFFC  IS making a difference!  These youth ARE Haiti's future.  Please help us make it a brighter and better future.
Make a donation to ACFFC here – CHANGE LIVES!
Thank you,  Judy Hoffman, founder
&  Marcia Weber, Board Member, 2000 – 2015
Additional art will be added below on a regular basis.
Please check back often and share this page with others.
Please include your contact information on the response forms or call the gallery 334 262 5349 with your purchase information.
We accept all credit cards.
We appreciate your purchases!