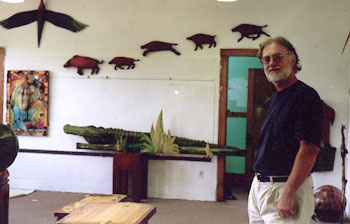 Don Gahr began his artistic career with a painter's brush, but the wood carver's knife, clamps and chisel have carried him a long way down the road to recognition. Many of his works wind up in displays in corporate offices and headquarters like the bigger-than-life-size horse that stands in the lobby of a Minneapolis bank. Smaller examples of his creations are equally at home mounted on the walls or resting on the mantels above the fireplaces of numerous collectors throughout the country.
Gahr, born in 1940, grew up in St. Paul, Minnesota, but he settled in the late 1970s in northern Wisconsin where he and his wife, Claudia, found some land close to many of the subjects of his work. Don and Claudia have two daughters, Sarah and Mary. Gahr had already worked long enough to decide that eight-hour-a-day jobs didn't leave enough time to do any creating.
Gahr works with bass wood, white pine, redwood, birch and oak. He stains his pieces with five to ten coats of oil glazes and varnish. In his rural Wisconsin setting Gahr often finds pieces of wood whose shape suggests to him an idea or a creature to be fashioned with the tools of his profession.
It can be a swooping hawk, a gliding bird, a leaping lizard, howling wolves or animals at rest. Gahr's animals can be extremely humorous and charming. Gahr's sly sense of humor shows through in some of his work. They also can be edged with a menacing or particularly threatening quality. "Assembling" is the term he uses to describe much of his work because it often involves gluing boards and pieces together before he begins his carving.
"When you're carving you have to make decisions ahead of time. You have to know where you're going. You can't wipe it out and start again like you can in painting."
Gahr says his concentration in wood working began after he built his home with the help of a long-time friend, then helped the friend build a home "down the road a way." "I probably am influenced by my environment," he said. "Many artists are."