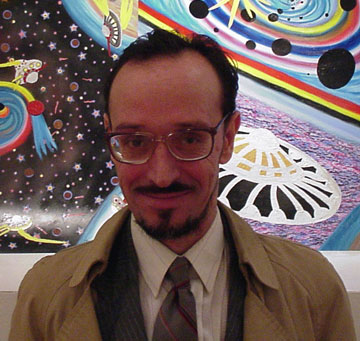 Born in Romania August 16, 1955, at the age of 8 or 9, his life was changed forever. One night he experienced a strange, hovering shape that came from the sky and enveloped him in a celestial blue light. He became obsessed by this happening and not long afterward, his parents "put him out." He lived on the streets until another family took him in during cold weather but basically he was homeless at a very early age.
Eventually he worked in the construction industry. He and another "street guy" would listen to Radio Free Europe whenever they had a chance and they both longed to "go to America." They planned together for years to swim across the Danube River to Yugoslavia where they had heard were refugee camps and people who helped defectors from Soviet countries. They picked a cold late afternoon in 1987 when the river guards were sparse to make their swim. Ionel's friend died of hypothermia but Ionel made it across to freedom. After several months of trying to immigrate to the United States, Ionel found a sponsor in New York and was granted political asylum by the U S.   He then emigrated to New York.
Shortly after reaching New York, a TV documentary about UFOs rekindled his interest in space and he began to draw interplanetary spacecraft and tell of his abduction experience as a young boy. He insisted that his work had value not only for art lovers but also for NASA scientists, since it articulated the magnetic forces and antimatter at work in the propulsion systems of his spaceships. "My art is about the big mystery in life," he told the journal, Western Folklore in 2008. "How did we get here on planet Earth? Why are we here? Is there life on other planets?"
In New York, Ionel lived hand-to-mouth, at times sleeping in a cardboard box and selling his art on the streets. He would position himself strategically outside shows of self-taught art and remained independent of exclusive gallery representation. His art was shown by galleries who purchased his art as early as 1994.
In addition to paintings of UFOs in various guises, he also created flying saucers from plaster often painting them silver and blue. By 1997, his art was featured in books and magazines worldwide and was included in a number of museum exhibitions- at the American Visionary Museum in Baltimore and Martin-Gropius-Bau in Berlin.
"My art shows spiritual technology, something beautiful and beyond human imagination, that comes from another galaxy," he told Western Folklore. "Something superior in intelligence and technology. So, in relative way, this is like the God. It is perfect."
In 2014, he achieved his dream of becoming an American citizen. Ionel died in September of 2015.
— Marcia Weber