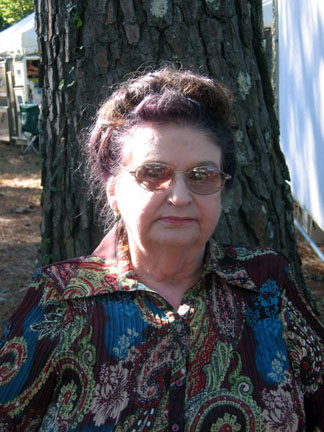 Alpha Andrews was born on August 20, 1932 in Habersham County, Georgia. She was the oldest of five children born to William and Laura Andrews. She grew up surrounded by a large extended family of numerous aunts, uncles, and cousins. Alpha married at nineteen, before graduating from high school, and soon became a mother. Her family grew to five children over a ten year period. Her husband died when her oldest child was sixteen and her youngest was eight.
The challenge was hers to support herself and her five children. She began doing bookkeeping and tax preparation in her home, and at the same time became the Georgia correspondent for the Anderson Independent newspaper. Eventually she developed a network of livelihoods to support the large family. She became a licensed nurses assistant, opened a hair salon and hired a staff, became an Ordained Minister for an Independent Church, and then opened a craft shop in a flea market.
Her first artistic endeavor was "Cotton Patch," a memory painting that was inspired by an incident in her father's cotton patch, that was exhibited in "Art From the Heart" at the Lyndon House, Athens, Georgia, in 1990. Her success at the Lyndon House led the way for her works to be included in numerous other gallery exhibitions. One of her works was published on the back cover of Rosenak's "Collelctors Guide to American Folk Art", and has been included in many permanent collections including the American Folk Art Museum.
— Marcia Weber (adapted from text by Tim Flinn)