Marcia Weber Art Objects
WE ARE

Marcia Weber Art Objects is a gallery devoted to self-taught art including contemporary folk art and outsider art. It is filled with rare and one-of-a-kind works that can be viewed as the visual counterpart to jazz or blues music. A special focus for this gallery is art by artists who at first did not know they were creating art. Their works and creative methods often are shaped by available found materials and isolated life styles placing them outside the mainstream of American Fine Art. These artists' creative impulses are natural, without academic training. Inspired by their unique life experiences, and at times rural environments, they share memories, dreams and visions in their art.
Many gallery artists have Alabama connections and have works in prominent collections and museums worldwide including the Metropolitan Museum of Art, the Smithsonian American Art Museum and the American Folk Art Museum.
This informal gallery near Montgomery, Alabama is open anytime by appointment and is filled with more 1000 works by many artists. Numerous, large exhibits have been presented by this gallery in New York, Chicago and Atlanta through the years.  Purchased art is shipped promptly worldwide.
Marcia Weber has enjoyed a close relationship with many artists in this field while actively preserving, documenting and collecting their art for more than forty years.
Read about our gallery in Garden and Gun magazine...here!
The gallery is located at
118 E. Bridge St.
in historic downtown
Wetumpka, Alabama
next to the Chamber of Commerce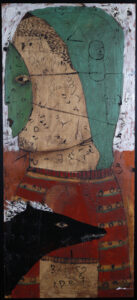 "Going Together" c. 2003 by Michael Banks  mixed media, tar, on plywood 48" x 21.25" in wide black floater frame $2400 #13446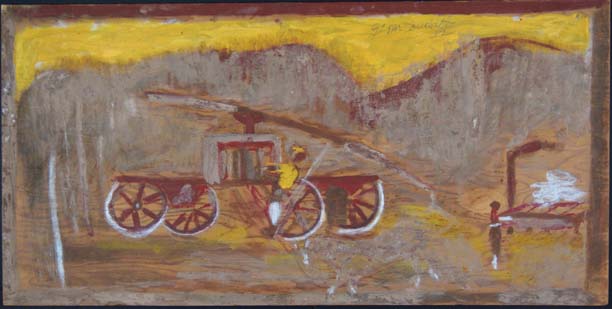 "Making Syrup" c. 1987 by Jimmie Lee Sudduth mud and paint on plywood 24" x 48" unframed $3600 #13422 Provenance: Marshall Hahn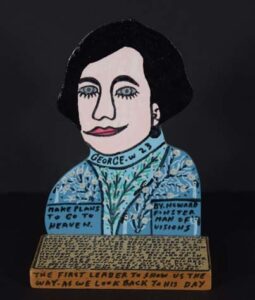 "George Washington" #16,693 Oct 30 1990 by Howard Finster  enamel paint & marker on wood cutout 9.5" x 6.75" x 3.5" $1400 #13403  Provenance: Marshall Hahn Collection
These artists have been represented by the gallery for 30 years:
Hope Atkinson • James Harold Jennings • Howard Finster
• Lonnie Holley • Woodie Long • Charlie Lucas
• B. F. Perkins • Sarah Rakes • Bernice Sims
• Mose Tolliver • Bill Traylor • Fred Webster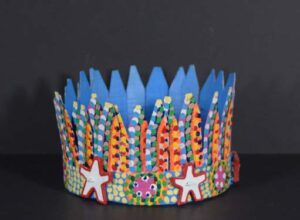 Crown by James Harold Jennings acrylic on wood and plastic  5.25" x 8.5" x 8.5" $950 #13387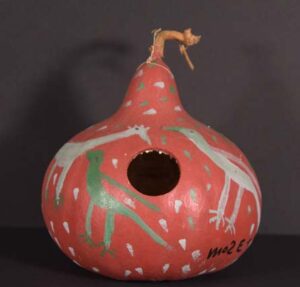 "Red Gourd Birdhouse with Birds" c. 1989 by Mose Tolliver house paint on gourd 10.5" x 9.5" x 9.5" $550 #13376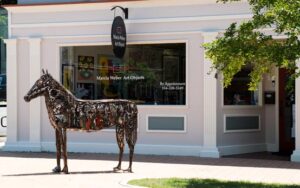 "Sue" by Ray Bellew welcomes everyone to the gallery.
"Sue"  2020 by Ray Bellew   welded found metals 82" long body x 68" (ground to top of ears) x 16" across, 50" from ground to top of back, 65" girth  $17,500   #12874