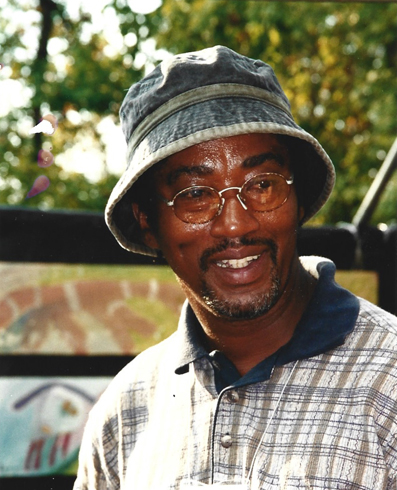 Born October 12, 1951
Jefferson County, Alabama
Charlie Lucas exhibited overflowing creative and mechanical ability since he was a young child. When he was born, his father was a chauffeur in Jefferson County, but he was also an ace auto mechanic. He taught his son how to take an engine apart and put it back together. He learned first hand the intricacies of the working parts of an automobile.  Charlie's mother was a quilter and made many beautiful works.
Charlie was one of fourteen children, and perhaps because he was such a creative child, his brothers and sisters had a hard time understanding him. "They did not understand why I was always building stuff. It made me play a lot by myself. I tried to fit in, but I was the black sheep….I've been making toys since I was a kid. It is toys to me, if I called them anything else I wouldn't know what I was talking about." Charlie's grandfather, Melvin Jordan, was a gun smith and chair caner, and his great-grandfather, Cane Jackson was a blacksmith. "My great-grandfather Jackson was the gentlest man I ever knew,' Charlie related, "I would go and watch him work. He never did anything too fast or too slow. He would say, 'I'm going to do this today,' and he would do it. He always put God in his work and through him, I put God in my work."
At fourteen, Charlie left home and took to the streets. 'I stayed with friends and worked construction. I always found a job. All I needed was a bucket and a painting brush, that's all I needed. I would go to different towns, knock on doors and ask people if they needed work done. People would give me jobs to do. I would do a good job and they would recommend me to somebody else. I didn't get tired of traveling. I went to Florida because I wanted to see new things. I worked on a dock there.
In 1971, Charlie came back home to Autauga County and married Annie Lykes.  Together they had six children, but a serious back injury put him in bed for almost a year. He had enjoyed painting on found materials using leftover paint from his jobs. "That's when I started working in metal." Charlie remembers, "I asked God to let me do something that nobody else can do. I called myself the Tin Man because I only had ten dollars in my pocket."
"My career is at the point that I want it to be. I don't care if my name is in lights. My art is my family and friends. Through the Kind Spirit the pieces that I don't sell talk to me and teach me. I'm real happy about myself. I'm teaching myself to read. In school I just wanted to study art. My teacher said `No! You need to learn a trade. Art is for white people. Now I can do anything I want to do…Now people recognize me and say `there goes Charlie Lucas."
Modified from an article by Miriam Fowler in 1992