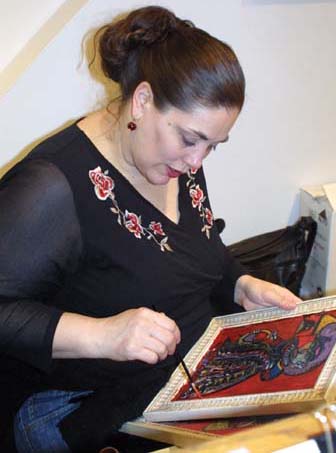 Anne Grgich was born and raised in the Northwest, and has lived in Seattle with her son for more than a decade. A life-long artist, Anne has known that she wanted to spend her life making art since she was in grade school. As a child she infuriated her parents by taking books and filling them with paintings before returning them to the shelves.
She has worked in a variety of media, including painting and drawing, mixed media and collage, printmaking, and ceramics. Best-known for her haunting images of faces, Anne's return to the books of her childhood have proved particularly popular with collectors. Using old library books, or textured works such as braille books and wallpaper sample books, Anne rebuilds and paints them into visual texts which unfold into a landscape of personality. A compulsive artist, Anne has painted on objects as diverse as world globes and toilet lids.
Anne Grgich is one of the most original and innovative of the group of American artists known as "Outsiders." Completely self-taught, her work was the cover story of Raw Vision Magazine in 2004, she became known for her impassioned, expressionistic faces and figures. Grgich often employs collage and vigorously applies layer after layer of over-painting, covering found texts and images, yet allowing some of the under layers to remain visible. This lends mystery and mystique to her exotic characters.
In addition to being represented in a number of large collections, she has been profiled in numerous publications and is represented in galleries throughout the United States and in Europe. She has also had work in museum shows both here in the United States and overseas.