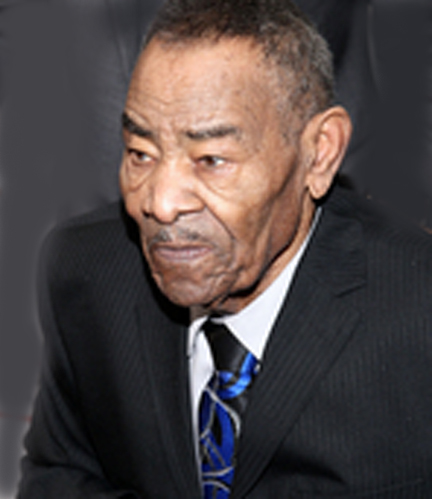 Thornton Dial was born in Emelle, Alabama, Sumter County, in 1928, on Luther Elliot's plantation where his family survived by sharecropping and picking cotton. According to Dial, he picked cotton from the time he could walk. His family and others like them, he says, "kept on farming and didn't ever come out of debt." The theme of oppression is one that would come to inform his work as an artist, now held by the Whitney, the Metropolitan, and the Smithsonian American Art Museum, among others.
Born to a single, teenaged mother, Dial, only three, and a half brother were sent to live with their cousin, Buddy Jake Dial, a farmer who also created sculptures out of materials collecting in his yard, perhaps his earliest exposure to making art from what he could find. Buddy also taught Dial to farm.
Dial was next sent, in 1941, to Bessemer, Alabama. Dial, who had never been to school, began to attend Sloss's Mining Camp School, but at 13 and only in second grade, he was made fun of and stayed just long enough to learn a little, as he puts it. He began sneaking off to work and to play in the neighborhood called Pipe Shop, making small things like cars and tiny towns. He planted vegetable gardens here and there, selling some of his produce; he also raised animals.     
For much of his adult life, he was employed as a metalworker at Pullman Standard Plant in Bessemer making railroad cars. Married to Cora Mae Murrow in 1951, they had five children together. When the plant closed in 1981, Dial decided to dedicated himself entirely to the art he had already begun to make in his spare time. According to his obituary in ArtNews, "Though Dial was constantly making things, he said that he did not know what he was doing was art," as he assembled what materials he could find into sculptures. Bill Arnett persuaded to begin to paint as well.
Dial created his art out of found materials and objects, layering them densely in both sculptures and paintings, and drawing inspiration from "the rich aesthetic traditions of the black South," one of which according to the High Museum catalog for his 2015 exhibit, "is the African American yard show, a highly influential yet little-recognized genre of found-object sculptural display that employs cast-off materials as a form of encoded visual language."
As for the themes of his work, "It is exactly the truth that the Negro has been mistreated," according to Dial himself. "But we got to look at what we have had to use, what we have built, after what he been through." Ultimately he was hopeful, "I come through it myself, and I know what life was like at that time, and I can respect myself and the Negro for what we have did."   He died in 2016.
Susie Paul