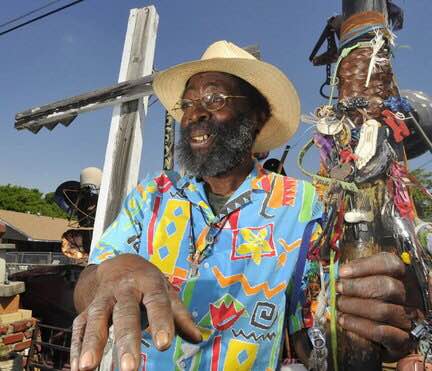 photograph by Frank Couch, courtesy of The Birmingham News and AL.com
BORN MARCH 28, 1943
BIRMINGHAM, AL
Joe Wade Minter, Sr. was one of ten children born to Mr. Lawrence Dunbar Minter and Mrs. Rosie McAlpin Minter, both Alabamians, native to Selma and Greenville, respectively. Lawrence Minter served in the 366th Infantry, World War I in France. Joe Minter feels he inherited his skill in mechanics from his father.
Minter is the creator of "African Village in America," an enormous outdoor sculpture garden, constructed in his yard and on a contiguous vacant lot near Shadow Lawn Memorial Park in Birmingham, Alabama.
The collection consists of sculptures, monuments, signs, plantings and totems. Most of his themes involve African-American history, but some works reflect his African ancestors, the protection of spirit warriors, the losses and achievements of African-Americans, and, of course, Biblical references and stories, the latter emphasizing God's goodness.
Trash made into art is how some describe the collection. Minter says he is trying to tell the story of the life that "Africans," as he describes them, have spent here in America. The materials Minter uses are discarded just as he believes his own people have been. He believes that what is thrown away, what might be invisible, can be made into something that is meaningful, that demonstrates spirit and growth.
In fact, when in 1988, he heard of the plans for a Civil Rights museum in Birmingham, he experienced a vision from God and felt inspired to tell the story of those he felt would be left out of that project, those he calls the "foot soldiers." He was determined that his garden would speak for the "unacknowledged and the forgotten."
He is clearly aware of the history of discrimination in the South as the son of a father who spent 30 years maintaining a cemetery because so much other work was closed to him, even after he had served in WWI. Minter himself, trained as a mechanic in the Army, could only find construction work when he came home. Despite the pain he feels and sometimes expresses in his art, his ultimate goal is one of bringing people together, whether within families or among races of people.
Joe Minter's art is in numerous important collections including the High Museum, the Smithsonian American Art Museum and most recently the Metropolitan Museum of Art.
—Susie Paul