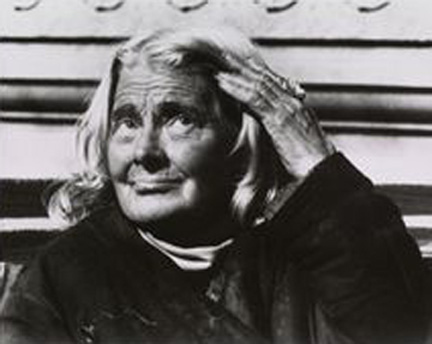 Lee Godie was born Jamot Emily Godie around 1903 in Mudtown, Illinois, as one of a family of 11 children. She married George Hathaway and had 3 children. The only education she had was piano lessons as a child. She was a well-known street artist in Chicgo for many years where she spent much of her life as a homeless "bag lady." She slept on grates, in parking lots and when the weather got too cold, in cheap hotels. No one knew where or how she painted. This seemed to be her life choice.
Godie sold her paintings in front of the Art Institute of Chicago in the 1960's because "if you want to sell, stand where the most people go back and forth." She could be heard saying, "Would you like to buy some canvases? I'm much better than Cezanne."
No one knows how or where she learned to paint, but she claims to have been a French Impressionist. She liked color. She painted her own cheeks with big orange circles and gave herself extra eyebrows, using the same paint she used for her art. Godie died in 1994 after reuniting with a daughter.