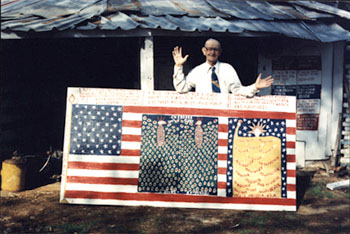 Born February 6, 1904 in Vernon, Alabama, Benjamin Franklin Perkins was known affectionately by many as "Brother Ben" or to most of the world as "B.F." Perkins.
He longed to see the world when he was young. and became a seaman with the merchant marines prior to the required age by saying he was older. He traveled to 28 countries during his 48 years away from Alabama. Eventually Perkins became a U. S. Marine on security detail, who guarded the White House when Coolidge was President. He had a mysterious government career with other security details that he declined to discuss after leaving his White House position. On one of his missions abroad, he was converted to Christianity eventually becoming an evangelist who traveled and preached revivals throughout the United States.
Prior to this, in 1936, Perkins married and then became the father of two daughters. His wife left one day and they divorced. He had sole custody of his young children and reared them alone in the Washington D.C. area while working for the government.
In 1969, Perkins returned to Alabama. He established a congregation of the Church of God and built a church and meeting hall near his quaint studio home located on 5 acres in Bankston, near his birthplace. He began painting and decorating his environment with patterns and signs in red, white and blue. At the entrance of the grounds around his studio home, he created a replica of Christ's open tomb and gourds painted in patriotic patterns adorned a decorative concrete wall. Red, White and Blue paint was everywhere. His studio was a fascinating place, filled with mottos and objects he had painted. His environment was first where he expressed various themes. Then he began replicating these various motifs in paintings mostly in acrylic, often on canvas sometimes on wood or objects. His unique style had an exotic but genuine mix of patriotism and religious fervor.
Open heart surgery slowed Perkins down briefly in 1977. After recovering, he enrolled in an art course at a small community college nearby. He was allowed "to paint the way he wanted to" in this class, and soon was sharing his lifetime of memories and personal messages through his paintings. When he was 87 years old he said, "I enjoy preaching, and I enjoy painting -That's why I keep at it. All of my works have a message. If art don't tell me anything it's not art. When I began to paint I think about something that has meant something to me."
In l992, Perkins suffered a second heart attack and was urged to move to a managed care facility. When he was well enough, he would drive the five miles to his old home and studio to paint and on Sundays to preach there. He continued to work on his environment after moving to the care facility and at the time of his death was painting ten large sections of a tree trunk, cut down on his property to depict his "Ten Commandments for Successful Daily Living."
Perkins died on January 12, 1993 at the age of 88. His home studio and his environmen,t with many wonderful signs and messages, sadly was picked to pieces within a few months of his death and fell into total ruin and was eventually burned. Today his paintings are in important collections throughout the world.
–Marcia Weber