How do we ship?
Our priority is to get your art to its destination in perfect condition for the least cost to you as quickly as possible.
Purchases are shipped promptly, normally within 24 hours of the completion of a sale, always fully insured via FedEx Ground or FedEx Express.  The FedEx Express option offers guaranteed overnight, 1-day and 2-day delivery for which the cost is greater.
FedEx Ground is priced reasonably and is fairly fast (except for holiday seasons), 3-4 days from us to Chicago and to the upper East.    5-7 days from us to the West coast.   1-2 days to any neighboring state of Alabama.
No sales tax is due if your purchase is shipped outside Alabama.  Your total shipping cost is slightly less to ship to a business rather than to a residence.  There is a $5 charge from FedEx for requiring a signature for delivery.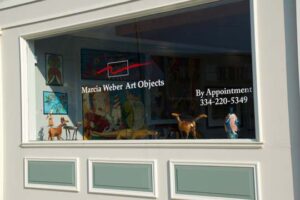 We charge you, our exact cost for your shipment.  How?
When we get our bill from Fed Ex (after your shipment) we charge your credit card or we invoice you, for our exact cost for your shipment. We then email a copy of your shipment charges as well as a copy of your credit card receipt to you, verifying the charges.   If you prefer to have an amount for packing and shipping to be charged at the point of sale, an amount can be determined and agreed upon at that time of purchase if you request this. Please provide your shipping address with zip code so that we can determine this amount in order to give you a shipping estimate.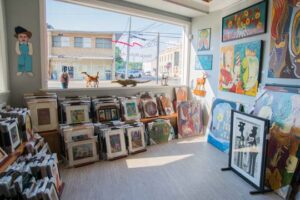 Packing charges?  We strive to keep any packing charges at a minimum. If we have recycled packaging materials on hand and time available, we will provide complimentary packing for small to medium sized works of art without any cost to you.   For really large works of art and very fragile works, we often must use a professional packing business. We will charge you our exact charges incurred for your shipment. We can discuss this at purchase.
When you have a shipping deadline to meet, please let us know so we can give you advise regarding your shipping options to insure that we meet your deadline.  We promise to do everything possible to have your shipment in the proper hands on time, if it is within our range of possibilities at the time of your purchase!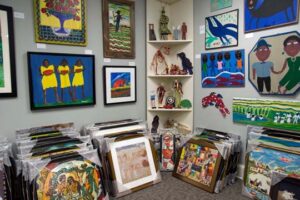 FedEx shipments have an automated tracking link provided to your email address so that you can be aware of where your package is at all times and when your art will arrive. We need your best email address for creating this link. A phone number is required for all FedEx shipments. We also need to know if you wish to have a signature required for the delivery for a $5 fee from FedEx.   
Our 100% Satisfaction & Return Policy:
We offer a money back agreement for purchased artworks. If you feel that your purchase is not perfect for you when you receive it, you may return it to us within ten days for a full refund or for a full exchange credit, your choice.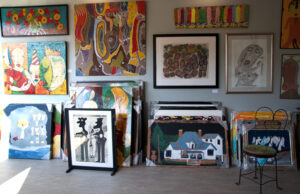 Prices for FedEx shipping are determined by them using weight, distance shipped as well as size, if oversized.  When a very large work is shipped, "dimensional weight" rather than actual weight is used to determine the shipping fees for large boxes.
For International shipments the gallery has a "great rates" quote available for shipments over 10 pounds. Our FedEx shipping rates are outstanding and packages normally arrive in 2 to 4 days for a fraction of the normal International shipping rates.
Please communicate with us after you receive your art purchase regarding your satisfaction after its arrival.   Someone from the gallery can always be reached at 334 220 5349, phone or text.