By Marcia Weber
     Dreams do materialize! It took a while to properly honor Alabama's most famous artist, Bill Traylor. I heard from his closest living family at their family reunion in 1992, that Bill was buried in an unmarked grave next to where his daughter, Sarah Howard, planned to be buried at "Mt. Moriah Church on the Old Hayneville Highway." I soon discovered there were several large Mt Moriah cemeteries on that long road. After several exhausting searches for Sarah Howard's grave to find her father, Bill's grave, my dream of finding and marking his grave lingered for years without much activity.
In 2014, a major exhibition of Bill Traylor's work was being curated by Leslie Umberger for the Smithsonian Museum of American Art. Leslie was also researching and writing a massive book about Traylor that would serve as a catalog for the exhibition. When Leslie's first research trip to Montgomery was approaching, I gathered some files of my found materials to share with her. Reopening those old files reopened my obsession- to find Bill's grave and to have it marked properly. While these files were strung across my office floor, a friend from Hayneville just happened to stop by my gallery. I asked her about the various Mt Moriah Church cemeteries that I had searched to no avail, years earlier on the road to her house. She asked if I had checked "the Mt Moriah Church across the street from the airport." I had not known that such a 2 mile stretch of the highway existed, separated from the majority of that road. Within minutes, I was on my way to search that cemetery and found Sarah Howard and her husband's marked graves! An unmarked grave was at the foot of Sarah's grave, just as Bill's grand daughter described! With my challenge renewed, the Bill Traylor Monument Committee formed and a long fund raising process began with the aim of honoring Bill by marking his grave and later placing a historic marker at the spot where he created much of his art, as a homeless man from 1939 to 1941, on the corner of Monroe and Lawrence Streets in downtown Montgomery.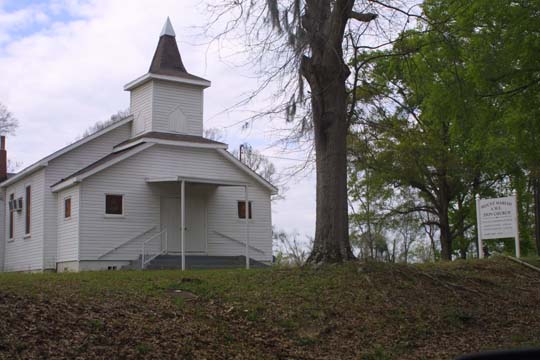 First, a few miracles were needed. I had seen an unfinished marker that Bill Traylor's family had commissioned in the early 1990s at a local mortuary. A man who worked there said that they were waiting for the death date and other engraving and to know a location for its placement. Many years went by and the headstone engraved with an etched photograph of Bill on one side and an etched rendition of one of his paintings on the other side, remained in their hallway each time I checked. The mortuary closed suddenly when its owner died.
By 2014 this business property had changed hands a few times and was no longer a mortuary, so I had no idea what had happened to the headstone, engraved with only Bill's face on one side and an image of one of his art works on the other. Finding Bill's gravesite was such a thrill after searching for it for over 25 years. This motivated me to find that lost headstone, if possible, and to use it for Bill's grave to be properly marked. I did NOT want Leslie's upcoming book to read that Alabama's most famous artist still rested, without honor, in an unmarked grave in Alabama!
Bill Traylor in 1948 in the backyard of his daughter, Sarah Howard, at 314 Bragg Street in Montgomery, Alabama
I felt that the heavy marker might not have gone far from the place I had seen it many years before. I found and called the current owner of the old mortuary property a number of times asking if he knew anything about the headstone that I described and was curtly and repeatedly told, "No." One morning, I called again and he asked, "What's this worth to you?" I felt then, that he did know something about it! After negotiating a purchase price of $1000 if he could locate it, he agreed to search his property for the headstone. He called back the next day and told me he had found it and to "bring the money and come get it."
Bill Trayor's headstone was lost in storage for more than 25 years
Through the generosity of committee member, Ron Drinkard, the headstone was paid for promptly, but finding someone to move it without any initial pay, was my new challenge. Many search calls transpired and finally a kind man, Paul Wright, agreed to move the heavy stone to his property and wait until the money could be raised to have his company engrave it and place it on Bill's grave. It took more than two years to raise the funds.
By this time, the Monument Committee was eager to plan an unveiling event and to invite out of town contributors to enjoy some Southern hospitality while in Montgomery along with other activities; touring Bill's frequented places and taking a trip out to the Traylor plantations where Bill had spent his youth. The Committee wanted to invite members of Bill Traylor's family to attend and to offer lodging for them. Committee member, Jeffrey Wolf, was creating a feature length film about Bill Traylor to accompany the Smithsonian exhibition. He was quite eager to film the unveiling ceremony to include in his film. So the planning began to build and take on a life of its own.
Bill's headstone found!
Thanks to the generosity of a number of individuals, the hard work of committee members and a few miracles, a beautiful marker was placed at Bill's gravesite with an unveiling ceremony celebrated and attended by around 85 people on March 27, 2018.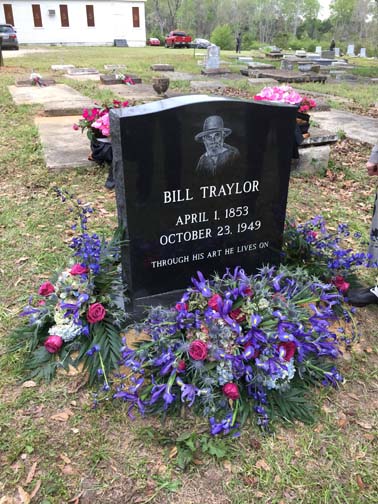 Bill Traylor's grave located at Mt Moriah Cemetery, Old Hayneville Hwy, Montgomery, Alabama
Attendees came from New York, Chicago, Washington, Detroit and beyond. The weather was gorgeous as was the setting of the church cemetery. Just two days prior to the big unveiling, the stone was put in place manually, when Paul Wright's equipment broke. His team was able to accomplish the difficult task, the old fashioned way, without machinery. I learned that black granite is twice as heavy as white granite so they had to work hard but miraculously the headstone was placed just in time.
The ceremony included speeches by Leslie Umberger, Rev. Bernice Allen, pastor of the church, the Church Bishop and representatives of the Mayor. The church's children's choir sang and a proclamation was issued that it was "Bill Traylor Day." The verdant green setting under the huge trees in the 126 year old church cemetery could not have been more fitting to honor Bill Traylor, as if it had been waiting for all sixty years for this to happen.
Monument committee member, Bo Starke hosted a lovely dinner afterward for guests at the Young House, an ante bellum home in Old Alabama Town in downtown Montgomery. The next day was filled with touring and a wonderful evening buffet was hosted by Jerry Kyser in a private room at his downtown restaurant, Dreamland. Copies of the Mayor's proclamation were given to the Traylor family members in attendance before everyone said their goodbyes.
In 2019, a historic marker was placed near the corner of Lawrence and Monroe Streets at the spot where Bill created most of his incredible art, against all odds.  Leslie Umberger curated a magnificent large exhibition of Bill Traylor's art at the Smithsonian American Art Museum titled "Between Worlds – The Art of Bill Traylor." It was a five year project for her and many others.  The 444 page catalog for this exhibition is also magnificent. No other book will need to be written about this artist. Jeffrey Wolf created a magnificent documentary about Traylor called "Chasing Ghosts."
Today Bill Traylor's art survives in many important collections and museums throughout the world.  It is the only body of artwork known to have been created by someone who was once a slave.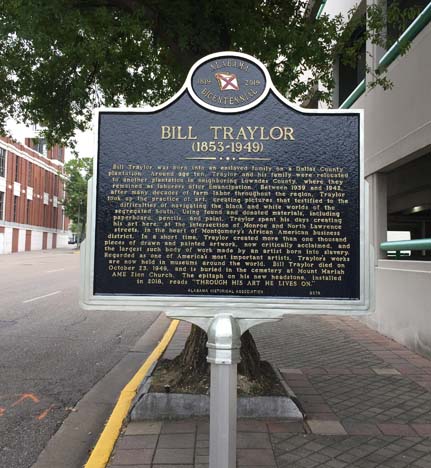 In 2019, this historic marker was placed at the place where Bill created most of his works of art while homeless and living on the streets of Montgomery, Alabama.  This is located at the intersection of Monroe and Lawrence Streets.
The following photos are from trips to the Traylor plantations where Bill was born into slavery and where he spent most of his life. I'm convinced that the visual acuity of artists is shaped and formed during their lives by visually stunning surroundings. The beautiful area that Bill Traylor saw everyday while growing up, must have certainly helped to shape him as an artist.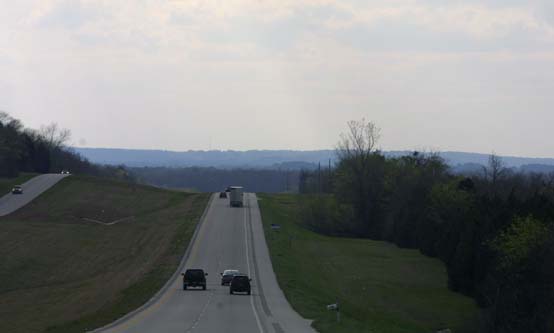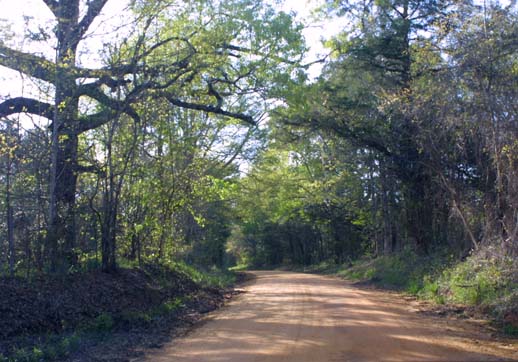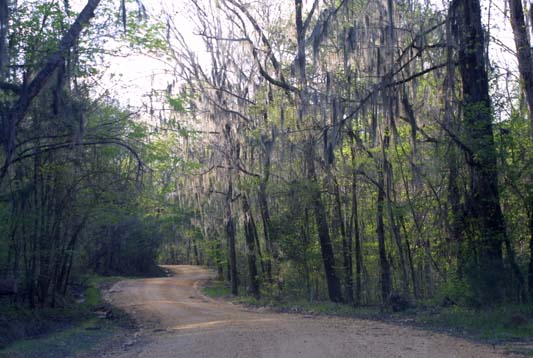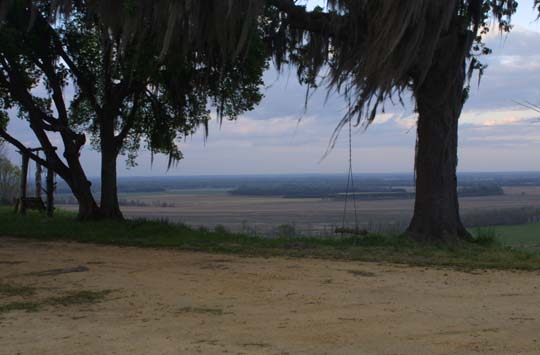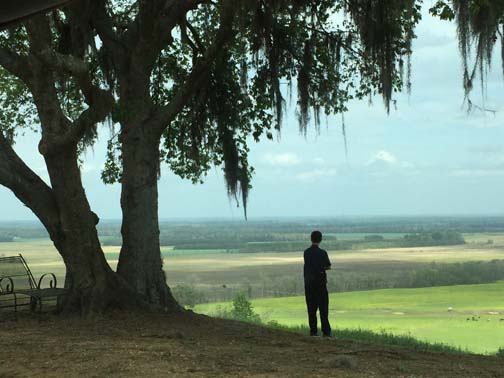 I would like to encourage the perpetual upkeep of the cemetery where Bill Traylor rests. The church congregation had less than 20 adult members when Bill's grave was marked. If you would like to make a contribution to the church for the upkeep of Bill's grave, please send it to:
Mt Moriah AME Zion Church
4740 Old Hayneville Hwy
Montgomery, Alabama 36108
Attention: Rev. Bertha Allen, Pastor
The Bill Traylor Monument Fund Committee Members:
Judy Saslow, Chicago, Illinois
Ron Drinkard, Wetumpka, Alabama
Jeffrey Wolfe, New York, New York
Bo Starke, Montgomery, Alabama
Marcia Weber, Wetumpka, Alabama
Albert Holloway, Montgomery, Alabama
Leslie Umberger, Washington, DC (Honorary member)
Fred Barron, California (Honorary member)