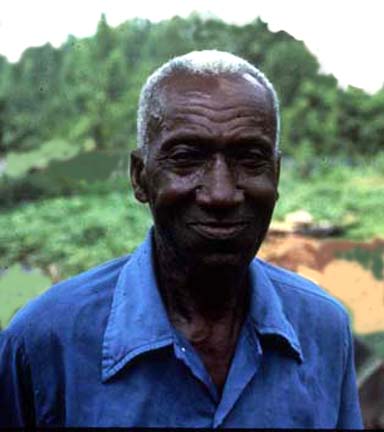 BORN 1908 – DIED 1988
     John Bunion Murray was a mystic who created drawings and writings filled with spiritual messages. Having no formal education. J.B. Murray labored from childhood to the age of 65 as a tenant farmer in rural Glascock County, Georgia, where he and his wife, Cleo Kitchens, raised their family of eleven children.
In 1977 Murray, suffering from a hip problem, came under the care of Dr. William Rawlings, Jr., who took an interest in his patient's personal and physical wellbeing. J.B. Murray's visions charged him with spreading the word of God through the creation of "spirit script." Because Murray believed Rawlings was his "spiritual doctor," he began sending him messages.
Murray wrote spiritual messages that only he could read by viewing his script through a bottle of "holy water" drawn from a well in his backyard. A deeply religious man, Murray avowed the arcane script that he produced while in a trance represented direct communication with God. A session of prayer always preceded Murray's deciphering the script.
Murray produced the script on market receipts, adding machine paper, bank calendars, notebook paper or whatever material he had at hand. He used pencils, colored pens, markers, watercolors and pastels, writing from left to right and then right to left. Dr. Rawlings eventually provided Murray with higher quality materials and J.B. produced stunning calligraphic drawings and watercolors, always concerned with good and evil, heaven and hell.
In the 10 years before his death from cancer, Murray produced hundreds of abstract drawings and script writings, all imbued with a gentle and ethereal beauty.