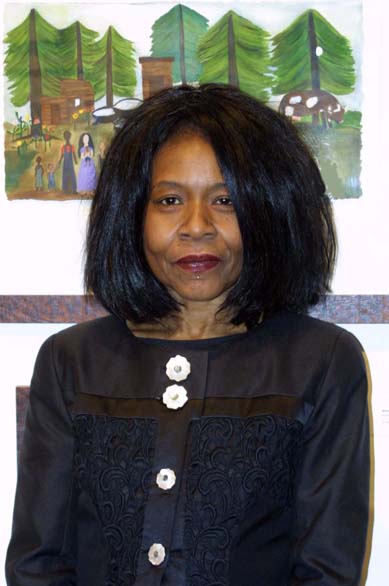 Mary was born in Birmingham, Alabama in 1947 when her mother was nineteen. Her father walked out on their wedding day so Mary spent the first years of her life in the home of her maternal grandparents. It was a loving environment with two aunts who each had eight children. The home was filled with family stories and traditions. Mary's grandmother was an active soldier in the Civil Rights struggle.
As a child, Mary developed a vivid imagination and loved to spend hours entertaining her younger sister and cousins, by telling stories that she illustrated with drawings. When Mary was seven, her mother remarried a man from New York and moved there with her sister. She and her sister would spend every summer in Alabama. One summer during Junior High, Mary refused to return to New York at summer's end but after considerable strife, finally returned and finished high school at Great Neck North in 1965. In Great Neck, Mary and her sister were pioneers in integration, being the only black members of the student body.
Soon after graduating, Mary married a man twelve years older who was quite controlling and rarely at home. They had three wonderful sons who remain the bright spots in her life. She was trapped in an unhappy marriage for many years until finally separating in 1997.
During the early years of her marriage, Mary began having the compulsion to create things after her children were put to bed. She would often find old plywood and house paint in her garage and would paint paintings. This compulsion became a continuation of her love for storytelling that filled her lonely nights. Bringing to visual life a variety of stories became her escape from the sadness in her marriage. Over time, she found that creating art was a way of coping with her depression.
Mary Whitfield's works are now in several museum permanent collections: the Albright Museum in Buffalo, NY, as well as the Birmingham Museum of Art in Alabama. Her work has been included in numerous national exhibitions including two at the American Visionary Art Museum in Baltimore and at the Museum of American Women in Washington, DC.