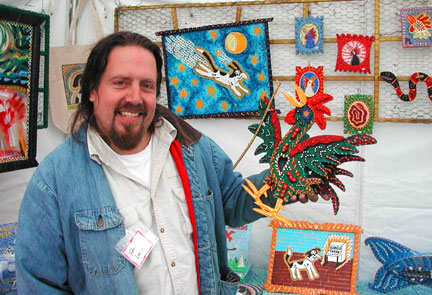 Peter was born in Silver Springs, Maryland on May 2, 1963. From his earliest days he has been fascinated by nature and spent his childhood splashing in creeks and hiking in the woods. School was always a chore but, finally led to work as a state park naturalist and as a naturalist for the Audubon Society. In 1986 he moved to Georgia to work at a Nature Center.
Shortly after moving to Georgia, he bought a set of water color paints and attempted to illustrate and produce a field guide to local wildlife. Frustrated with his 'messy painting' he quit, telling himself that "painting is too hard". About two years later a period of emotional stress and physical illness led Peter back to water colors. This time with no goal in mind he began to create strange little paintings dominated splotches of color on typing paper.
Encouraged by friends and motivated by a constant will to paint, he soon switched to acrylics and store-bought canvas. The first of these, him as a fish, was completed in one evening during which the splotches of color turned into thickly applied dots and dashes. His strange little paintings had evolved into the whimsy he creates today.
His style, bright colors and bold animal imagery, is gaining popularity nationally as well as locally in Georgia. Painting has turned into Peter's way of life and now it is his full time occupation. He presently lives in Georgia with wife Sandy, who according to Peter, is the only one who knows if a given work is finished or not. They share their six acres with a wide variety of once abandoned animals ranging from their 3 dogs to his studio mates, a boa, a python, and an iguana. Inspired by his beautiful companions and surroundings Peter continues to create whimsical paintings, birdhouses and sculptural musical instruments, his trademark being snake-shaped dulcimers.
Peter has had many shows, participated in various juried exhibitions, and was awarded a Georgia Council of the Arts Grant in 1994-1995.
" I PAINT BECAUSE IT MAKES ME HAPPY. I PAINT BECAUSE I LOVE ALL THE CREATURES OF THE EARTH. PAINTING CAN MAKE YOU HAPPY TOO. ENJOY THIS AND MORE."
courtesy of Karekin Goekjian
(photo courtesy of Peter Loose)