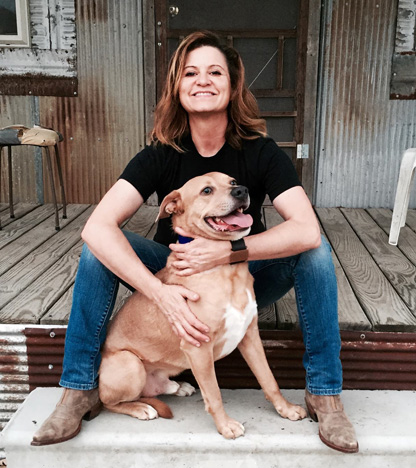 Stephanie Dwyer has mastered the art of the bottle tree.  Dancing in her studio with her welding torch and mild steel, she forms unique one-of-a-kind creations that are unequaled in the world of bottle trees. One initial desire she had was to honor the origin of this African American tradition while at the same time, honoring those who were rebuilding their lives after Hurricane Katrina.  The result became her infamous "Katrina Tree."
One giant set of Stephanie's bottle trees now welcomes visitors to the new African American Museum in Washington, DC.  and another to a Botanical Garden in Texas.  Her bottle trees and original metal creations adorn businesses and homes from coast to coast today.  The majority of her works are commissioned months in advance and are unique to the sites they adorn.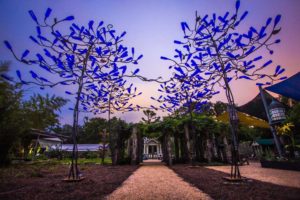 Prior to finding her calling as a metal artist to express Southern folklore, Stephanie worked as a welder on pipelines in the Pacific Northwest.  When the pipeline work was completed, she worked for months to start a coffee shop in Seattle only to find that it held empty promises from her partner. In addition, her marriage was splintering.  To escape the pain and abuse of both situations, she left the area and went to live in Mississippi, depressed and broken.  This coincided with the aftermath of Hurricane Katrina where, in Mississippi, she saw first hand that she was joined by multitudes whose worlds were also shattered.  Creating bottle trees became a way out of her depression, "an outlet to heal and rebuild myself."  Also there were many animals there who had lost their homes and their owners so Stephanie became a major animal advocate, fostering many cats and dogs.
Today Stephanie lives and works in rural Tennessee. She still loves taking care of a lot of animals… never less than eight dogs, thirteen cats and a bunch of chickens.
Marcia Weber Art Objects is delighted to have two 5 foot bottle trees available at the gallery as well as some shippable works by Stephanie…. table top sized bottle trees (called "Little Dancers"), colorful luminaries, a unique wall bottletree and a blue bird trellis.