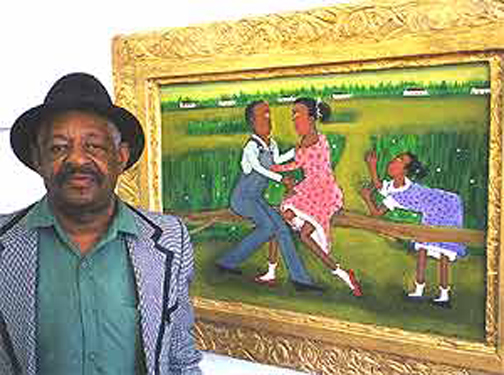 Lorenzo Scott
   Lorenzo Scott was born July 23, 1934 in West Point, Georgia, a small mill town on the Alabama border. His mother worked in the fields that supplied cotton to the local mill. During the Depression she lost her job and the family moved to Atlanta.
One of eleven children, Lorenzo once saw his mother make a sketch and had the desire to learn to draw at an early age. He became more interested in drawing than in his schoolwork. His family lived across the street from a Southern Baptist church where they were active members. Here he developed a lifelong devotion to the Christian faith, which is a major influence in his life and his art.
He became a housepainter who also worked in construction. When he was twenty-five, he painted his first painting. Then it was another twenty years before he visited New York and saw artists selling their art on the streets. He also visited the Metropolitan Museum where he was inspired to return home and try to paint seriously.
Lorenzo studied the works by the Old Masters and spent hours experimenting with oil glazes and trying to balance colors and contrasts in his art. By day he worked construction and at night he painted. He developed a way to create his own hand carved ornate frames to finish his paintings like those of the Old Masters. These frames are constructed from wood, bondo and gold paint. Finding a way to sell his paintings was the bigger challenge. One Sunday night after getting home from a hard day at construction site, he experienced a vision. He stated, "A light came on my bed. Sure did! First it came an' it went away. …It came again and got real bright. It was like the Lord was talkin' to me. And then my paintings started selling."
His art was first exhibited publicly in 1986 in Atlanta and soon after he had a national Museum show in Ohio. As his notoriety grew, so did the inclusion of his art in major exhibitions and collections of self-taught art. Lorenzo Scott's work is now in the collection of the Smithsonian American Art Museum, the American Folk Art Museum, the High Museum and many others.
Marcia Weber