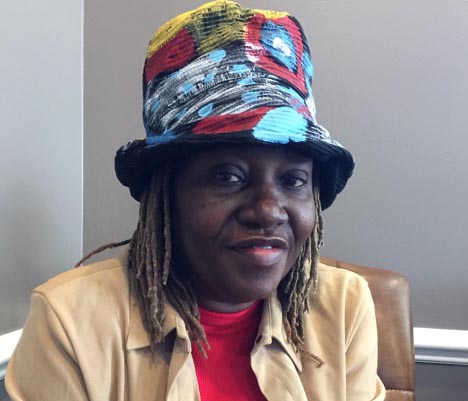 About Brenda Davis…..and why I am asking
compassionate folks to help her by purchasing her wonderful art below on this page or to donate any amount possible to her through her Go Fund Me site.
Visionary artist Brenda Davis, has been recovering from cancer after a four year battle with surgeries, chemotherapy and radiation.  It has been a difficult time for her physically and financially.  I can think of no one, more deserving of help at this moment in time. She has recently been hospitalized due to pneumonia. During her long health crisis she has adopted two children, a boy who is now 18 months old and her granddaughter who is now 4 years old. They are the "bright lights" in her world. Brenda is single now and struggles to keep her utilities paid or gas in her car to get to her necessary appointments. She currently has no working stove and her Medicaid benefits have been exhausted for this calendar year and won't begin again until January 2021!  She desperately needs to pay for a prescription drug called Brovana right now. It will cost her $845 because she now has no insurance or drug coverage or hospital and doctors' coverage via Medicaid.
Throughout her health struggle, Brenda Davis has been driven to create an amazing environment inside her double-wide mobile home, painting the walls, floors and ceilings!  It is truly a masterpiece environment! She is willing to sell it, if she could "trade it" for a safer place to live now during tornados. She is the quintessential visionary, outsider artist and a very dear lady who lives in God's Grace everyday. She deserves a better life. She remains upbeat and her constant refrain is "God's got this, I'm going to be alright."
Brenda was born on October 3, 1962 in Tuskegee, Alabama. She was one of nine children and grew up in Elmore County Alabama. She did not have a happy childhood and was put to work in the fields by her father to pick vegetables that he grew to sell. She was unable to learn to read and became suicidal and was a "cutter" before she reached her teens. When she was in the 11th grade, she became severely depressed, had a nervous breakdown and then dropped out of school.
Brenda remembers that her Grandmother would tell of her vivid dreams and that they would come true. Her Grandmother interpreted certain symbols, the meaning of which also came to her during her dreams. When Brenda was 24, her Mother, Grandmother and an aunt were killed in an automobile accident caused by someone who ran a traffic light. Brenda's anxiety and depression then returned.
At the age of 28, Brenda married the father of her two young sons and they purchased a double-wide mobile home to live in as a family. In March of 2005, their home was invaded by some masked men who shot her husband six times. Her oldest son was also shot once. The two spent months hospitalized and are both still disabled from the incident. During this time, the family's mobile home was repossessed by a finance company and they lost their home and all of their belongings. The family took shelter in an abandoned shack that was without benefit of electricity or running water and lived there for several years until 2007.
It was during this time that Brenda had her first visionary experience. She was outside, "reflecting on the home invasion" when she heard the voice of God tell her, "Draw to comfort your mind." She immediately began drawing obsessively and later began painting over her drawings. Her dreams at night began to be all about her drawings and then her dreams began "to dictate" what she was to draw. The symbolic meanings and titles of works also come with these dreams. "They won't let go of me until I get it down on paper."  Brenda's art was discovered and became pursued by collectors.
Through the success of her art, she acquired another double-wide mobile home in 2008, which was put in the same place as the family's former mobile home. If Brenda has the materials, she creates art constantly.  She has been featured in numerous exhibitions, a television interview along with a few articles but still remains an emerging artist.  Brenda's art is in many important collections and she now has several paintings in the permanent collection of Atlanta's High Museum of Art.
Should you choose to help Brenda, 100% of the sale price for the works on this page will go directly to her. Packing will be complimentary from the gallery. (Only FedEx charges and tax, if applicable will be used by the gallery to offset those expenses.) No tax is due if art is shipped outside Alabama. Thank you for your consideration. Be well and Stay well, everyone!
Marcia Weber