Art Frames & Sizing
Most works on paper are framed in archival materials unless noted with a "u" next to the price. Many works are framed in an archival manner and noted in the caption.
Dimensions given in captions are the actual art size, H" x W" x D" without the frame. Works are photographed before framing with some exceptions.
We frame art with archival, acid-free mats for works on paper.  Since the size given in the caption is the actual size of the art without framing, we are happy to provide the framed size of the art upon request. Works that are not framed are noted as "unframed" or with a "u" after the price in the caption for each image. The framing is described but not always shown with the art image. We are happy to provide quick photos of the art framed as well.
Examples of framed works can be seen below.
The total size of a framed work of art is available, just ask. 
To estimate a framed and matted size,  add 6″ to 8″ to each given dimension for a work on paper.
For works with shadowboxes (floater frames showing the entire work of art), add just 3″ to the image size given in the caption.
For works on canvas or wood in a simple frame, add 2″ to each dimension given.
As a standard, we frame works on paper with simple white archival, acid-free 100% rag mat board. If a work on paper has a dimension greater than 30″ then it will be covered with plexi-glass rather than glass to reduce its weight and danger of breakage during shipment.
Other non-standard framing is described in captions.  We will remove a work from its frame for no additional fee.
Here are  of our standard gallery framed works: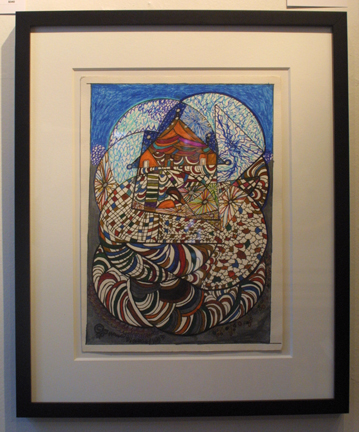 floated in archival white mat with simple black frame (with whole art showing)